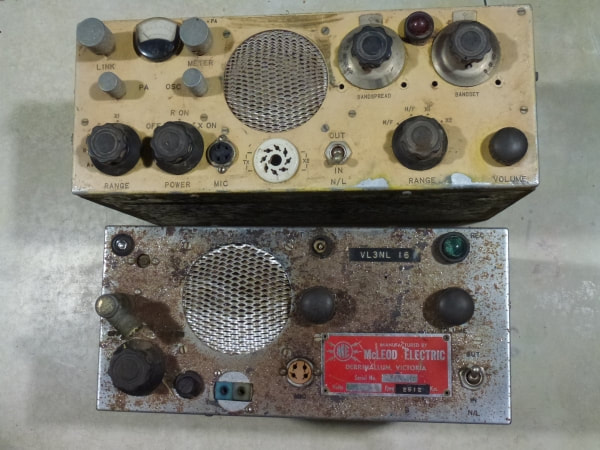 Doug McLeod was buried at Derrinallum on Wednesday September 4, 2013.
He was the last link with early days of CFA radio.
Doug grew up on his family dairy farm on World War 1 Larra settlement.
This was burned out in the '44 fires. At 16 years of age it helped to form his attitude to wildfire.
Neighbour Laweton French was also caught in the tragedy of those fires. And years earlier Laweton remembers visiting the McLeod dairy where 8 year old Doug had constructed a crystal set "using farm parts and powered by the static electricity from the drive belt of the dairy pump".
From that time and with no formal training Doug developed a passion for the exciting new world of radio.
From 1949 the returned soldiers, members of the new fire brigades in Lismore area, put into civilian use their military training and started fighting fires with the help of surplus army radios. They were allocated a frequency that these radios could handle by PMG department. Doug was involved in adapting these to farm vehicles.
In 1956 Doug started to design, build and install his own radios and antennas.
He formed McLeod Electrics and was first to build dedicated CFA radios.
It was an exciting time in developing systems for brigades and groups to work with radio and showing the new CFA administration how it could be done. Over 10 years he equipped several mobiles in each brigade with radios. He made a range of models as he made improvements.
Two models of "McLeod Electrics" CFA transceivers
Many of the several hundred he built still exist in working order in farm sheds.
After a devastating wildfire in WA 1958 Doug went with a group of Victorian fire radio enthusiasts to demonstrate to their WA volunteer and government collegues how radios could help in fire control. He collected a scrap book of all the newspaper articles about the trip.
In the 1970s the CFA started to equip tankers and mobiles with a different frequency radio and the mass market went to large manufacturers.
In response Doug developed a market for specialized long range antennas for authorities such as police, ambulance and SES. His design allowed the same antenna to be used for several frequencies. He supplied antennas for a radio builder in WA and also for export.
Doug developed a system for designing and printing his own circuit boards, both for radios and antennas. He also invented a system of automatic switching in his antennas between the different frequencies being selected. By the late 70s he employed 11 people in his Derrinallum workshop, and this market continued for many years, finally to be replaced by the mobile phone.
Doug was a true innovator and in its heyday his workshop was the silicon valley of Derrinallum!
---