Brian Mitchell 1934 - 2022

Brian Francis Mitchell was born on the 22nd of February 1934 in Prahran to Henry Francis Mitchell and Ena Claire Mitchell; a baby brother for Joseph (Jo) Mitchell. A younger sister Patricia May came along at the end of the following year. The family lived in Browning Street, South Yarra close to his grandparents Café in Chapel Street. His mother would often help in the family café while his father worked as a butcher.

Brian attended Hawksburn State School and Toorak Central High School. During his high school years Brian's great love of movies began. He would go each Saturday with Pat and 6 pence and watch a movie and buy a lolly. Brian was such a movie buff like "Bill Collins." Brian read extensively about movies. It was one of his great loves. He was able to tell you anything you needed to know about movies and would give you his true rating of each movie even if it was a "stinker".

At 14 years old Brian sold tickets at Flinders Street Station. When he left school, he began work as a presser in an old factory in Little Bourke Street, making woman's clothing for Myers Department Stores before being employed by the General Post Office in the city. He started as a postman. Doing 3 rounds a day was hard work on his feet. He later moved to the mail room as a mail sorter. He completed the rosters for the employees, in his own time on the weekend. This was hard work also, trying to please everyone! Another example of Brian helping others.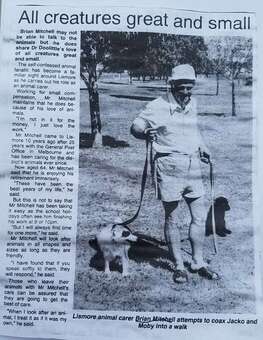 When Brian turned 18, like other boys of his era he completed National Service at Puckapunyal. He was not a huge fan!
While working at the post office Brian began volunteering with the Blue Cross Animal Aid and with the Schipperke Dog Club. He attended dog shows with friends from this club. He loved doing this and this is where his love animals first began.

After working for several years, Brian bought a house in Bulleen as an investment, close by to Pat his sister and her family. He continued to live with his parents in Richmond while his aunt and Uncle and cousin rented it from him. Later, after adding an extension on and wanting to be closer to Pat's young family, Brian with his mother and father moved in with the cousins in Bulleen. They all lived together as a large extended family for a number of years. The cousins eventually moved out and Brian lived with his mother and father and looked after them until their deaths.



Brian's brother Jo moved to Lismore in the mid 1980'S and built a house and a life down here. Brian was impressed with the town on his visits down to see Jo and on his retirement bought a house and moved to Lismore in 1988. Brian was extremely happy down here. In a newspaper clipping he says it was the "best time of his life." He quickly settled into country life and loved being in nature with all the flora and fauna.


Brian looked after many animals in the Lismore area. He was an icon. He had 2 newspaper articles written about him and his dedication to this passion. He looked after animals in all shapes and sizes as long as they were friendly, starting at 7 am and not finishing till the early evening 7 days per week. He was quoted as saying that he was married to the job of looking after animals." I will always find time for one more" he said in the article.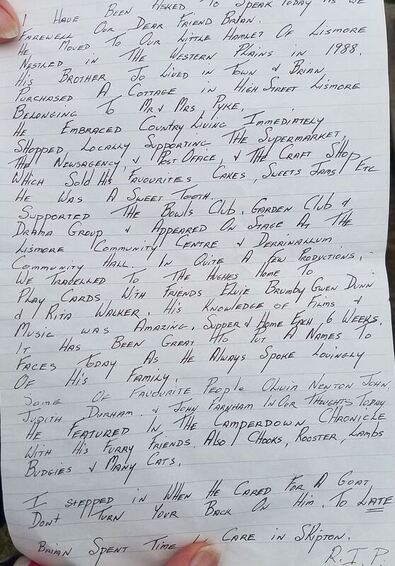 brian3.jpg
Brian was a member of the "LISDERK Players", directed by Dawn Henderson. They met regularly and performed, acted, sung danced, recited poems and entertained audiences in the local community. Brian had so much fun. Lyn Kelly remembers when Brian was on stage, wearing a black wig and a flash outfit when he started singing and dancing as Tom Jones. The music was pumping, and everyone was cheering and clapping. It caused a sensation!
Brian moved to the Skipton Nursing Home about 18 months ago. He enjoyed living there and was happy to help in many ways. He helped the ladies with the flower arranging, delivered the Skipton Newsletter to all the residents and helped care for the animals, including little joeys. He left his crusts each morning at breakfast so he could feed the birds with them. Brian was always grateful for all that was done for him. He enjoyed trips out on the bus to have lunch and see a musician or band playing. It was reassuring as a family that he was being so well looked after and he was happy.
Brian thank you for all that you did in your life to help others including animals. You had a heart of gold. We have been overwhelmed with the support and words of condolence the people of Lismore and surrounding areas have given us. We would like to thank-you all for the support and friendship you gave Brian over the last 30 years. No wonder Brian loved living down here.
And to you Brian, thankyou for the memories you have shared with us all. You will be missed by many. REST IN PEACE.
(These details provided by Brian's family)


You can read the newspaper clippings about Brian if you click on the links below.