Francis Baker 1913 - 1981

This detail originally in
CRESSY AERODROME: HISTORY FROM GROUND TO AIR
(Retrieved 16-5-2022)
https://www.facebook.com/groups/1121554961543992/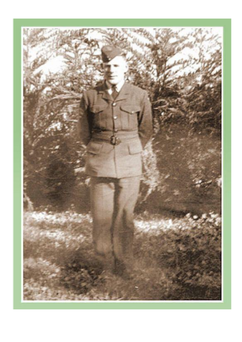 The search for people who served at the Cressy Aerodrome never ends, but
it is rewarding. Today we get to tell the story of another man who spent
time at Cressy during WW2, Francis Henry Baker.
Born on the 2nd of April 1913 in Camperdown, Victoria to parents
Edmond and Lilian Baker. Francis attended the Lismore Primary school for
his early schooling, and then Assumption College at Kilmore before
coming back home to work on the family farm near Lismore, where he and
his three sisters lived.
On enlistment, at the age of 28 and 11 month, he st
ood 5ft 7' and gave his
occupation as a Farm assistant. Frank, as he was also known, attended the
recruiting Centre at Lismore, Victoria on the 4th February 1942. The next
day, 5th February, 1942 he submitted at headquarters his application form for admittance to ground staff as a Group 5
trainee.
By the 22nd of February he had received notification that he had been removed from the list of reserved occupations and
so was now free to proceed with his application. He attended for his medical examination for Trainee Group V on March
3, 1942. A rail warrant, No 158211 was provided by the Commonwealth of Australia to travel to Melbourne. In his
Application for Enlistment as an Airman Form he provided the following information:
"I have been a truck and tractor
drive for the past ten years. I have assisted our mechanic with their maintenance and overhaul on a Reo or Dodge motor.
I could grind valves or fit con-
rod bearing".
He also indicated that his occupation was
"Farmer not simply employed".
He indicated that he had completed his Intermediate Certificate [Year 10].
The official Report added to the Application Form that he could read, was prepared to serve anywhere, was prepared to
rough it, that his police check was clear, and he needed a clear week's notice
to take up his enlistment. The following
description was added:
"Good type, clean and neat,
Keen and respectful, Suitable."
The form also contains the report of
his Trade Test as a Fitter. The report reads "Good elementary knowledge of I. C. [Internal Com
bustion] engine and
engineer's small tools. Mechanical aptitude (good). Elementary maths (good). 35% as Fitter, Suitable Trainee V." He was
enlisted at the level of AC1 (Aircraftman 1).
By 12 April 1942 he was at the 1st School of Technical Training (1 S. T. T.) at the Exhibition Buildings Carlton. He was
transferred to the 1st Engineering School (1 E.S.) on 6 June 1942. By 21 July 1943, He had the rank of Aircraftman.
On 19 August 1942 he was transferred from 1ES to the 3rd Bombing and Air Gunnery School (3 B.A.G.S.) at East Sale.
On 10 October 1942 he was granted a Pre-embarkation leave pass from Fulham Railway station, Sale RAAF Base to
Lismore, Victoria. On 21 October 1942, his Pre-embarkation leave completed he travelled from Lismore to Bradfield
Park NSW.
Frank would then be transferred to 76 Squadron on the 28th of December 1942, which was now located at Potshot,
Western Australia in 1943. 76 Squadron, having played a vital part in the Australian victory at Milne Bay, New Guinea in
August 1942, were exhausted and withdrew to Potshot to re-group.
After being re-equipped with new Kittyhawks in May, the Squadron returned to combat operations at Goodenough Island,
located north of New Guinea. A succession of moves saw the Squadron operating from a number of Pacific Island bases,
until its final wartime deployment to Labuan - where the Squadron supported the invasion of Borneo.
It was in March 1944 when Frank returned to Australia and after more training was posted to the Central Gunnery School
at Cressy on the 14 of August 1944, and would remain here until 21st of June 1945. It was in 1945 when Francis married
Honora Fitzpatrick of Melbourne, who was a school teacher and had taught at Lismore Primary School. It was during this
time that the both meet. His final posting was with 1 Aircraft Performance Unit, were on the 7th of February 1946 he was
discharged from the RAAF and returned home to work on the family farm.
In 1950 they moved to a Soldier Settlement block at Gnarpurt, just West of Cressy, where they started a family of their
own, one girl and five boys. Francis passed away on the 19th of July 1981 and is buried at the Lismore Cemetery in
Victoria. Thank you to the Baker family for the contribution to this story.