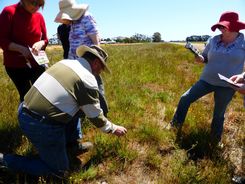 lismorelpg.wixsite.com/llpg
We have moved!
New postings will be at
https://lismorelpg.wixsite.com/llpg
The Lismore Land Protection Group (LLPG)
works in conjunction with other community groups to form a network of 25 km around Lismore.
Member groups
include Mount Elephant Community Management, Cundare Duverney Landcare Group, Leslie Manor Landcare Group, Weering-Eurack Landcare Group and Weerite Landcare Group. LLPG also supports much good work done along the Mt Emu Creek.
The LLPG area
contains one of the most depleted and least represented ecosystem types in Victoria (Natural Temperate Grassland of the Victorian Volcanic Plain). The Lake Corangamite Drainage basin contains many highly diverse and nationally significant wetlands and lakes, of which seven are listed under the RAMSAR convention for migratory birds.
Landcare issues
tackled by the LLPG include salinity discharge management, perennial pasture establishment, waterway protection (fencing creeks), and revegetation (around lakes and Mount Elephant), woodlot establishment, biodiversity shelterbelts, threatened species protection (wildflowers, brolgas, frogs and platypus), weed control (boxthorn, Paterson's curse), habitat restoration (wetlands), and soil health projects using biological methods and drainage.
A recent project
is to involve schools and families in the appreciation of native grasslands, birdlife and waterway health.
The Group runs workshops, field days and training courses, develops education material and produces monthly newsletters.
Click here for some details of recent projects.
Check who is living with you! Backyard Diversity projects for kids.
Also click here for a flier on Biodiversity in your Backyard 1 - Birds.
One of these is a Frog Appreciation Project. Click here for details.
See coming events on our

Facebook

page
LLPG produces a monthly "Corangamite Lakes Area Newsletter."
You can subscribe for your free email copy on the link above.
Click here for the index of old editions.
Click here for a list of Landcarer webinars of interest.
Role of Landcare after fire, Recruiting volunteers, and other topics.....

Click here to read our
5 Year Action Plan 2017-2021
Opens as a MS Word document

Click here for The Lismore Land Protection Group Constitution (By Laws)
Opens as a Word document.
---