Welcome to Lismore over the last 500 million years.
First is an illustrated walk through time. (Not guaranteed to be correct)
Then scroll down for interesting links to more detail. Worth exploring!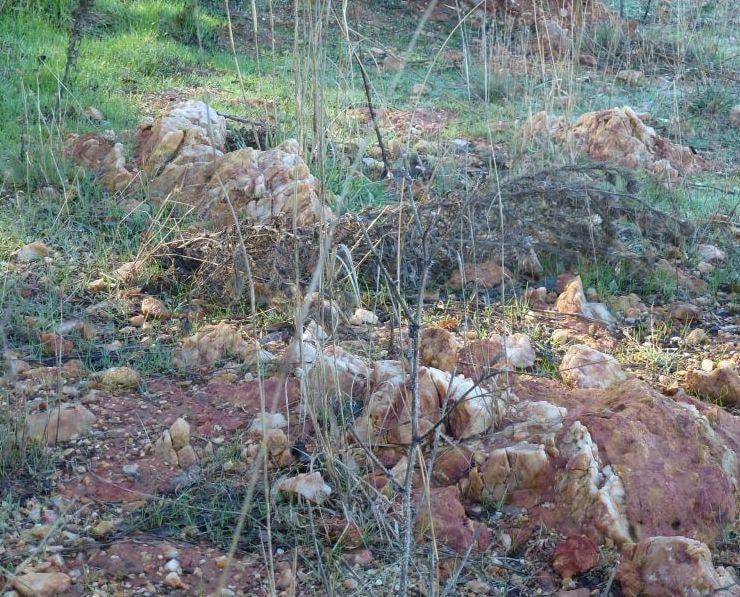 Lismore geology
(An asterisk* indicates where the formation can be seen around Lismore)
Below is a draft version. We welcome any additions. "contact us".
Our story begins a while ago.......
4-5 Billion years ago
- A mass of dust from exploded large stars (forming heavy elements), small stars (lighter elements) gathered to form our sun and earth. This eventually settled to form a core, mantle, crust, water, and atmosphere.
On the crust (50 to 150km thick) land masses drifted over the surface of the molten earth.
A link at the bottom of this page gives an animation of this.
Some ancient areas (called cratons) of this time still exist in west and south Australia. This is roughly where present day iron ore and mineral mining is happening. Most other traces have either eroded away or been covered by later sediments
500million years ago (mya) (Ordovician era
) - rocks to the south of Ballarat formed a sediment. Later cracks formed in this rock which filled with seams of gold bearing quartz.
At this stage where we stand at "Lismore" is under maybe 5km deep under the bed of an ancient ocean and located near where New York is now while that sediment is settling.
it is also thought that there was an undersea volcanic event near Glenthompson which is now being explored for copper and gold.
Click here for details.
500 mya (Devonian era)
- Granite plutons formed underground in an area which is now north from Lismore to Linton and Stawell. For the granite to cool slowly underground (to form its large crystals) there must have been up to 5km of rocks above which has now eroded away.
Granite has formed Mt Kinross (Wallinduc), Mt Emu (north of Skipton), Mt Cole (Beaufort).
Browns Waterholes has cut a channel down through to the granite, and it is also exposed in the highway cutting near the cemetery turnoff.The granite of the area varies in texture and in colour from grey to pink to white.
At that stage "Lismore" has drifted south to near Brazil and is still under maybe 500m of sediment with the granite melting upwards to our location.
Click here to follow our location over the ages
.(1.Enter Melbourne, Vic in the box at top left, 2. Enter the date 750 million in the box at the top centre, 3. Select "rotate globe", "show equator", "Done" in the box top right.)
---
(There is no granite around Derrinallum, just young basalt over limestone and deeper sediments.)


150 mya (Jurassic) - Gondwana started to drift apart to form Africa, South America, Antarctica, India, and Australia. Parts of all of them share similar ancient soils, plants and animals. Kangaroo grass on some roadsides is also in many of these continents and probably was there when they formed Gondwana.
It may be that our local long necked tortoise started to evolve at about this time, and the yabbie started a bit earlier.


95 mya (Mid Cretaceous)- The area was uplifted above water level and much of the surface rock was washed away to form what is now the Otways and beyond. Dinasaurs were evolving and some remains are found in the rocks of the Otways.
"Lismore" was located near the south pole and was lifted above sea level. The 5km of rock above was gradually being eroded until we were exposed along with the granite. The eroded rock formed the lower sediments of the Otways and the continental shelf.

30mya(Tertiary/ Pliocene) - Large mountain ranges eroded to form replacement sedimentary rocks and soils to cover again the granite and limestone.
Some are northwest of Lismore* and on the northeast shore of lake Tooliorook?.
This is possibly a "Pliocene Black Rock sandstone". This or a similar rock extends around the the north of Lismore. Locally we call it the "boomerang ridge". It apparently extends underground and around the lakes as far as Leslie Manor. There are patches near Wickliffe.


10mya (Miocene)- The area west and south of Lismore and east up to Rokewood was under a shallow sea and again limestone was deposited. A depression formed to the south called the "Otway basin" which filled with varying layers of sediments. (This area later lifted and tilted to form the Otway ranges).The sea probably reached to Lismore at that stage, then gradually receded. Fossil shark teeth can be found in the limestone of Lake Keilambete near Terang.
The Limestone on the southern shore of Lake Tooliorook* and Struan dam* This can be quite thick. Another deeper band of limestone called "Gellibrand marl" runs at various depths under much of the surface from Lismore to the coast.


The aquifer in the limestone layer provides spring water for the Gellibrand River and Otway Water supply to Lismore, Derrinallum and Cressy.


3.6mya -
Lava vents flowed over old valleys from Melbourne to Hamilton to form the present basalt clay plains* Also Mt Widderin, Mt Hamilton, Mt Vite Vite. This continued for millions of years.
Lava flows to the east of Lismore to Cressy. This is older and different composition the basalt beyond the stony rises to the west of Derrinallum to Mortlake*

2mya - Lava flows to the west of Derrinallum to Mortlake. The stony rises flowed over this at a later stage. The Mount Emu Creek cut a channel through this. It can be seen where the Mt Emu Ck crosses the highway at Darlington*. The clay soil from this basalt is fertile but is easily waterlogged.

---
184,000 y.a. Mount Elephant erupted. The hot lava mixed with water in the limestone layer on the way up and the steam caused the molten rock to become frothy which cooled to form scoria. The uneven ground for 5 km around Mount Elephant is also formed by more lava flows. The stony rises around Mount Elephant blocked various creeks to form Lake Tooliorook near Lismore and Deep Lake near Derrinallum. The stony rises erodes to form a fertile and well drained soil. Other nearby mountains erupted from 500.000 to 20,000 years ago.

60,000 to 40,000 y.a. Megafauna roamed the area. A fossil Diprotodon tooth and preserved footprints of giant kangaroo and marsupial lion have been found in a local dry lake bed during a recent drought. The tooth and plaster casts of the footprints are at the Melbourne Museum.
By this time Aborigines were also in the area. Some tools have been found under volcanic tuff at Tower Hill near Warrnambool, indication that the area was settled during the Tower Hill eruption.

Click here
to see a
video of how continents drifted over the earth
for the last 1.5 billion years. Only the last 1/4 of the video means much for us.
Below are cross sections
of the rocks to the south of Lismore and the south of Derrinallum.
These are just guesses!!