Lismore Primary School
School web site:
The Primary School has a web page which you can find here .
You may wish to attend school events listed here.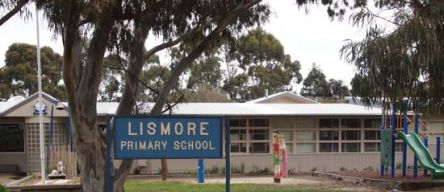 Old school photos:
Old school photos are here. You may be able to identify some students.
You may wish to say where you are now. (Do not speak for others.)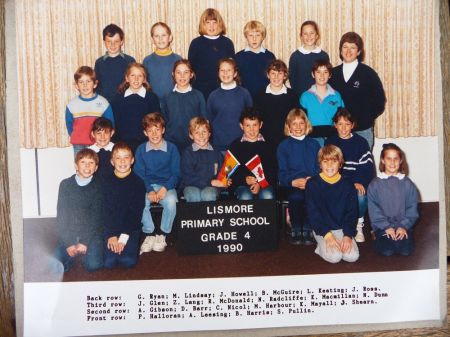 1990 grade 4
1955, grades 3 and 4.
back: Kevin Harris, Chris Lang, Bill hayward, Graeme Waldon?, Thornton Borbidge, Murray Richardson.
centre:Ellen Gibson, Marg Devlin?, Delysia Farthing?, ?, Pam Spinks, Judith Lloyd, Helen Webster, Meryl Miller, ?, ?, Suzanne Evans?, ?,
front:Bill Liston, ?, ?, Rodney Pearson, Kyren Meldrum, Bruce Cornish, Michael Byrne, Ross Brumby, Pat Liston?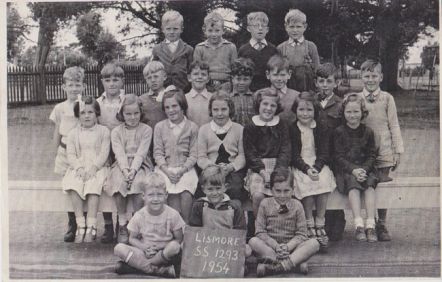 1954, Grade 2
back: Ken Richardson, Michael Byrne, Peter lewis, Bill Liston ,
next: Keith Brumby, Robin Scott, Murray Richardson, Daryl Heath, Daryl Hutchison, Bill Hayward, Rodney Pearson, Thornton Borbidge.
next: Pam Gibson, ?, Ellen Gibson, Meryl Miller, Pam Spinks, Shirley Devlin, Jillian Meldrum.
front: Ross Brumby, Pat Liston?, Bill Waldron.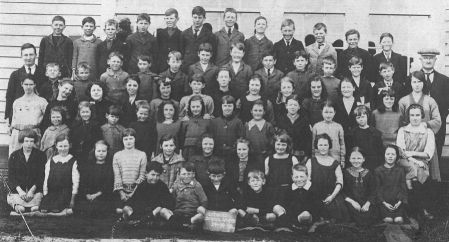 Class of 1924.
Get in touch?
It is possible to use www.lostschoolfriends.com.au to get in touch with each other.