Lismore Progress Association
Details
Phone: Loris: 55962344
Description
The LPA aims to represent the needs ot residents, traders, community groups and the general public.
Meeting 7pm on last Monday of every month at the Lismore Fire Station. All welcome! We need your suggestions....................
ScamWatch talk on 31/10/2016
Stacey and Sue from Consumer Affairs, Warrnambool told us of their work covering 49 Acts of Parliament.
This includes your shopping rights, car traders and real estate agents, incorporated associations, brothels, interstate conmen, etc.
Consumer Affairs is 1300 55 8181 and Scamwatch is 1300 795 995
Some point they made were:
Beware of last year's conmen around Lismore selling dodgy roof paint jobs and environmental light globes. Ask for local references and get local tradesmen to do the job.
Tell Consumer Affairs if they come to town.
Submit your "do not call" requests before they expire every 7 years. This stops hassle phone calls.
Door to door salesmen must abide by the "Do not knock" signs available from them.
You need not pay for unsolicited gifts in the mail, such as Christmas cards, or address labels.
Always check your bankcard statements for unauthorized charges, and ask the bank to "chargeback" (at no cost to you) any that you do not recognize.
Look out for scammers who often target the elderly.
More details on the ACCC website Scamwatch. See how many scams have been tried on you!
This web site was launched at the meeting of 27 Sept 2010. it is sponsored by Corangamite Shire.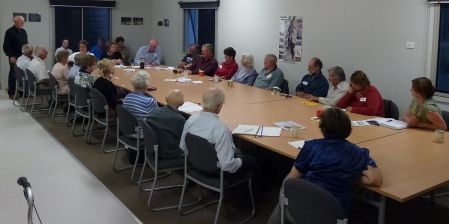 Progress Association hosts a "Community planning" night 28nov11